Our latest e-book cover design: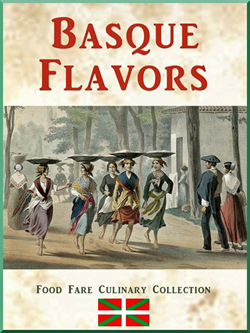 Basque Flavors was a re-do of the original cover. We like the new one better, naturally!
The new book cover for Basque Flavors was designed around the "Bayonne: Arrivee des Marchandes de Sardines" woodblock print painted by Edouard Pingret (1788-1875). The original is currently on display at the Fonds Ancely, City Library of Toulouse (Bibliotheque Municipale de Toulouse). A photograph of the print was edited by Webs Divine to create the book cover template. The original artwork is in the public domain as it was published before January 1, 1923 and because the copyright term is the author's life plus 100 years or less. The work has been identified as being free of known restrictions under copyright law, including all related and neighboring rights.